Elly Jahnz - Cornish Creatives Release
Elly is an illustrator living and working in the UK. She has worked with clients as diverse as The National Trust, Ronnie Scott's Jazz Club, Seasalt Cornwall & The London Transport Museum. Her work is bright & bold with a focus the natural world and strong characters. 
After graduating from University College Falmouth (Now Falmouth University) with a 2:1 in Illustration in 2009, Elly worked for fashion brand Seasalt for seven years as an in-house illustrator & graphic designer. Responsible for designing and developing all their packaging and providing illustrations for product she got used to dealing with a global supply chain and tight deadlines. In 2016 after a brief stint on a farm in rural Japan, Elly went freelance. She now works for clients across the UK and Europe from her studio in Falmouth. 
We met up with Elly, and posed the usual set of questions for our Creative Cornwall releases and below are her answers. Enjoy!
The beer "Here, But Somewhere Else" is a big ol West Coast DIPA and will be released on Wednesday 15th September.

Explain what you do in one short sentence.
I draw pictures for money. 


Did you study your trade and if so where?
I studied BA (Hons) Illustration at University College Falmouth. It was a great course and I learnt loads. I'd also say though that in the first month after graduating I learnt more about working in a commercial environment (as an in-house graphic designer for Seasalt) than I did in the three years of my degree. 


How did you get into your groove?
I try and start the day with a walk or a potter in the garden which sets me up nicely. If I'm working on an interesting, creative project then it's normally pretty easy to focus, although I do have to be strict with myself so I don't get distracted. I try and maintain my groove with lots of herbal tea, music and making sure I get off my bum every half an hour or so to have a little jig around the room. I've realised that often just plugging away at something isn't the best thing for creativity so I'm getting better at taking breaks when I hit roadblocks. 

How long have you been creating?
I'm going to give the standard creative-person answer and say 'for as long as I can remember'. Having said that, I clocked the fact that you could get paid for drawing when I was about 13 after seeing concept art in video game manuals. I'm not sure why it was that exactly that made me put two and two together and think someone got paid for this, but it did.  I became a bit more serious about it then. 


If you weren't creating what would you be doing?
Probably something sports related. It was a toss up between studying the arts or something sportsy at university, but I reasoned that a career in the arts maybe had a longer shelf life and that I could be sporty in my down time.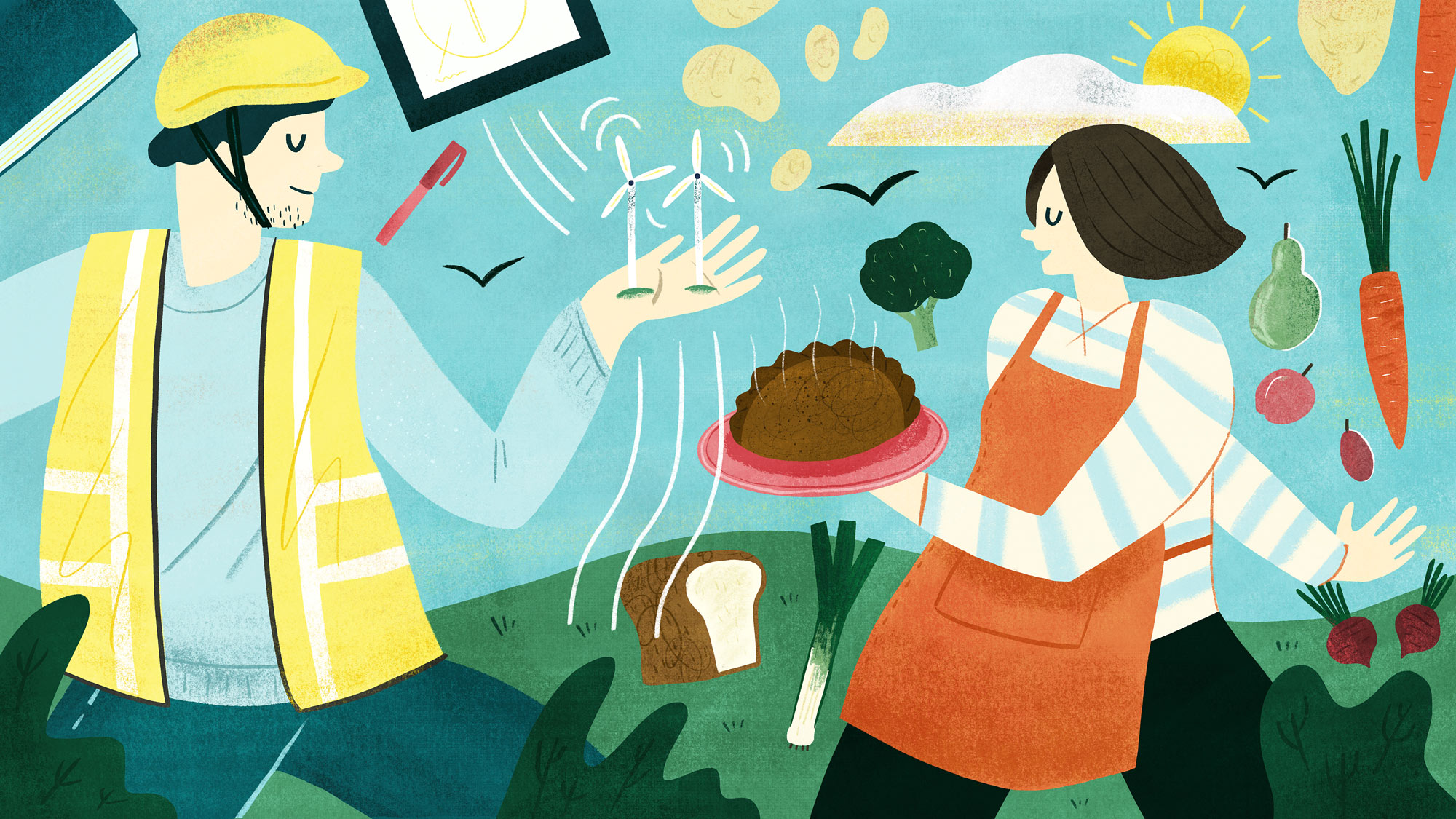 What's beyond your wildest dreams?
Faster than light space travel.  
Who do you take the most inspiration from and why?
Ooof good question. Aside from family and friends, when it comes to making art I'm probably most inspired by people watching. People are just really interesting and I love sitting somewhere quietly sketching passers by. 


Why did you create these pieces for the can art?
I was given the name of the beer - 'Here, but somewhere else' and was asked to just run with it. I wanted to focus on a busy street scene but have windows in it into other spaces threading through it, showing people occupying the same spaces at different times. I was thinking about how there is so much overlap in our lives these days, and how it's common for people to occupy both physical and digital space at the same time - the amount of people I see out walking while on their phones is baffling to me (if nothing else I don't understand how they do both...I'd walk into a wall pretty quickly!). So that, plus it was an excuse to draw lots of different people going about their business. I drew the final artwork using Procreate on my iPad and used a limited colour palette. 

What does Cornwall mean to you?
It's a place of freedom, of a sort. It's a place that is endlessly exciting to explore. I love the fact that there is a strong sense of Cornish culture here too, reflected in the traditions, place names and language. There's also a wildness in parts which holds a lot of inspiration for me. It's a place not without its problems - poverty, over-tourism, housing shortages etc which shouldn't be glossed over but I'm really happy to live and work here. I grew up in Kent, and while I love the countryside that I was raised in, Cornwall has a magic to it that is hard to find elsewhere.   



What's your best piece of work and how did it come about?
I'm not sure - I tend to really love the last bit of work I did, until I do the next piece. I'm not sure I've done my best work yet. At least, I hope I haven't.
https://www.ellyjahnz.co.uk/
https://www.instagram.com/ellyjahnz/